Fantastic Plastic Models Online Catalog
How to Order

* Select the kit(s) you wish to purchase and click "Add to Cart." If you wish to order multiple kits, click "Continue Shipping" and repeat until your purchase is complete.

* If your combined shipping charge significantly exceeds the actual postage, Fantastic Plastic will send you a refund for the overage.

* Shipping charges will be added to your total based on the weight of the kit(s) (plus box) and the shipping destination. California State residents also pay an $8.75% sales tax.

* Once payments have been received, purchases will be shipped via First Class or Priority Mail within 48 hours, depending on product availability.


* Order and pay for your purchase with a credit card using PayPal.




* Or, to pay with a check or money order, email your request to

fantasticplast@aol.com

.




* If any of the kits you ordered are not currently in stock, you will be notified of the delay by email and permitted to request a full refund if desired.
Please contact Fantastic Plastic Models at

fantasticplast@aol.com

to determine kit availability and backorders (if any).

---
Concept Aircraft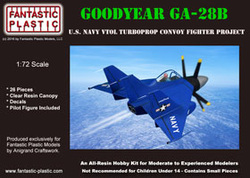 Goodyear GA-28B
U.S. Navy VTOL Turboprop Convoy Fighter Project
Scale: 1/72
Pieces: 26
Price: $75.00 + Shipping

STATUS: IN STOCK
---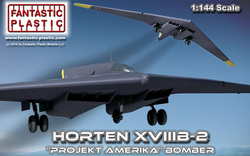 Horten XVIIIB-2
Luft '46 "Projekt America"Intercontinental Bomber
Scale: 1/144
Pieces: 39
Price: $80.00 + Shipping

STATUS: IN STOCK
---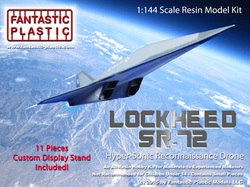 Lockheed SR-72
Hyper-Sonic Reconnaissance Drone Project (2014)
Scale: 1/144
Pieces: 11 (Includes Display Stand)
Price: $70.00 + Shipping

STATUS: IN STOCK
---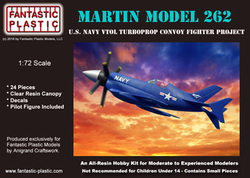 Northrop N-63
U.S. Navy VTOL Turboprop Convoy Fighter Project
Scale: 1/72
Pieces: 25
Price: $75.00 + Shipping

STATUS: IN STOCK
---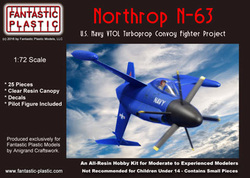 Northrop N-63
U.S. Navy VTOL Turboprop Convoy Fighter Project
Scale: 1/72
Pieces: 25
Price: $75.00 + Shipping

STATUS: IN STOCK
---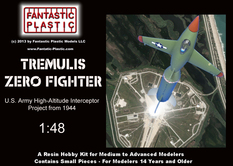 Tremulis Zero Fighter
Rocket-Powered High-Altitude Interceptor (1944)
Scale: 1/48
Pieces: 21
Price: $75.00 + Shipping

STATUS: IN STOCK

---
Spacecraft & Missiles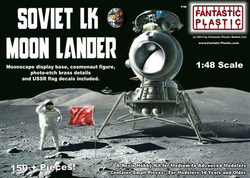 Soviet LK Moon Lander (1969)
Scale: 1/48
Pieces: 150+
Price: $130.00 + Shipping

STATUS: TEMPORARILY OUT OF STOCK

---
---
Concept Spacecraft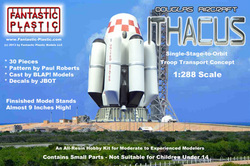 ITHACUS
Single-Stage-to-Orbit Troop Transport Concept (1966)
Scale: 1/288
Pieces: 30 (Display Stand Included)
Price: $135.00 + Shipping

STATUS: IN STOCK

---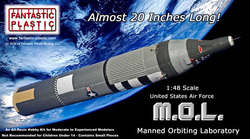 USAF MOL
Manned Orbiting Laboratory Project (1969)
Scale: 1/48
Pieces: 50
Price: $120.00

STATUS: IN STOCK

---
---
Science Fiction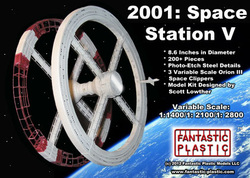 Space Station V
from "2001: A Space Odyssey" (1968)
Scale: 1/1400, 1/2100, 1/2800 (Your Choice!)
Pieces: 200+
Price $125.00 + Shipping

STATUS: TEMPORARILY OUT OF STOCK

---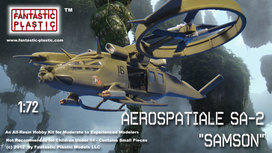 Aerospatiale SA-2 "Samson" Gunship
from "AVATAR" (2009)
Scale: 1:72
Pieces: 41
Price $75 + shipping

STATUS: IN STOCK

---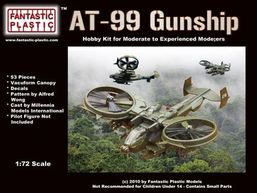 AT-99 Scorpion Gunship
from "AVATAR" (2009)
Scale: 1:72
Pieces: 53
Price $70 + shipping

STATUS: IN STOCK

---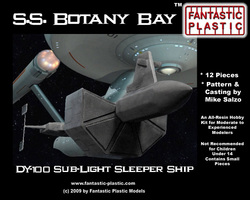 S.S. Botany Bay
from "Star Trek (TOS): Space Seed"
Scale: 1:350
Pieces: 12
Price: $75.00 + Shipping

STATUS: IN STOCK

---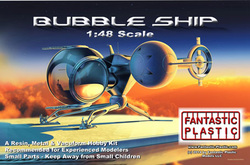 Bubble Ship
from "Oblivion" (2013)
Scale: 1/48
Pieces: 41
Price: $90.00 + Shipping

STATUS: TEMPORARILY OUT OF STOCK

---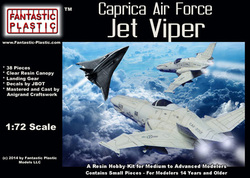 Caprica Air Force Jet Viper
from "Caprica" (2010)
Scale: 1/72
Pieces: 38
Price: $70.00 + Shipping

STATUS: IN STOCK

---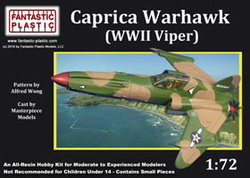 Caprica Warhawk
(WWII Viper)
from "Caprica" (2000)
Pieces: 32
Price: $75.00 + Shipping

STATUS: IN STOCK

---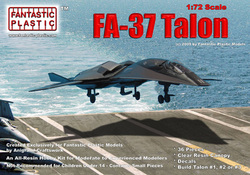 FA-37 Talon
from "Stealth" (2005)
Scale: 1/72
Pieces: 36
Price: $90.00 + Shipping

STATUS: IN STOCK

---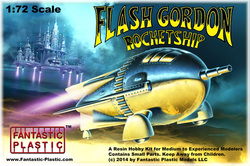 Flash Gordon Rocketship
from "Flash Gordon Conquers the Universe" (1940)
Scale: 1/72
Pieces: 26
Price: $85.00 + Shipping

STATUS: IN STOCK
---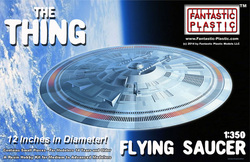 Flying Saucer
from "The Thing" (1982)
Scale: 1/350
Pieces: 49
Price: $135.00 + Shipping

STATUS: TEMPORARILY OUT OF STOCK

---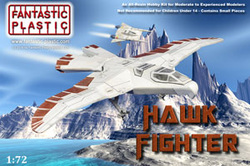 Hawk Fighter
from "Buck Rogers in the 25th Century" (1979-81)
Scale: 1/72
Pieces: 12
Price: $75.00 + Shipping

STATUS: IN STOCK
---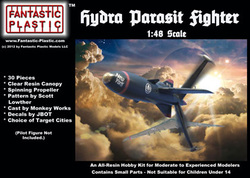 Hydra Parasit Fighter
from "Captain America: The First Avenger" (2011)
Scale: 1/48
Pieces: 30
Price: $75.00 + Shipping

STATUS: IN STOCK

---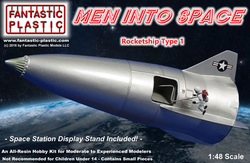 Rocketship Type 1
from "Men into Space" (1959-1960)
Scale: 1/48
Pieces: 17
Price: $95.00 + Shipping

STATUS: IN STOCK

---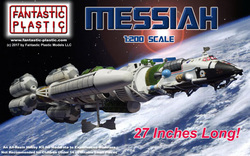 Messiah
from "Deep Impact" (1998)
Scale: 1/200
Pieces: 200+
Price: $275.00 + Shipping

STATUS: IN STOCK

---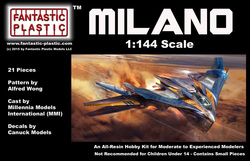 MILANO
from "Guardians of the Galaxy" (2014)
Scale: 1/144
Pieces: 21
Price: $90.00 + Shipping

STATUS: IN STOCK

---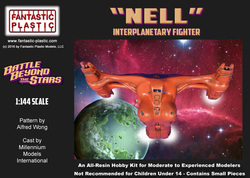 "NELL" Interplanetary Fighter
from "Battle Beyond the Stars" (1980)
Scale: 1/144
Pieces: 12
Price: $110.00 + Shipping

STATUS: IN STOCK

---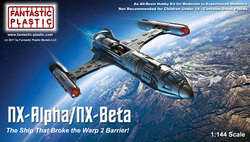 NX-Alpha/NX-Beta
from "Star Trek: Enterprise - First Flight" (2003)
Scale: 1/144
Pieces: 30
Price: $95.00 + Shipping

STATUS: IN STOCK
---
Phoenix Warp Ship
from "Star Trek: First Contact" (1996)
Scale: 1/144
Pieces: 13
Price: $70.00 + Shipping

STATUS: IN STOCK

---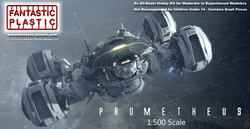 Prometheus
from "Prometheus" (2012)
Scale: 1/500
Pieces: 333
Price: $200.00 + Shipping

STATUS: IN STOCK

---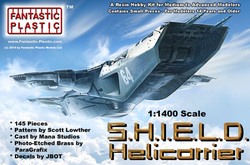 S.H.I.E.L.D. Helicarrier
from "The Avengers" (2012)
Scale: 1/1400
Pieces: 146
Price: $135.00 + Shipping
STATUS: IN STOCK

---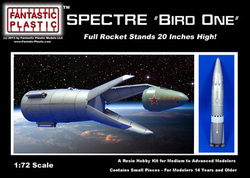 SPECTRE Bird One
from "You Only Live Twice" (1968)
Scale: 1/72
Pieces: 25
Price: $100.00 + Shipping

STATUS: IN STOCK

---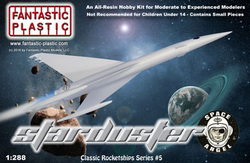 Starduster
from "Space Angel" (1962-1964)
Scale: 1/288
Pieces: 7
Price: $50.00 + Shipping

STATUS: IN STOCK

---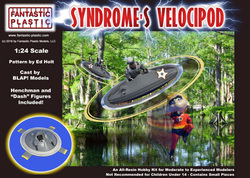 Syndrome's Velocipod
from "The Incredibles" (2004)
Scale: 1:24
Pieces: 17
Price: $90.00 + Shipping

STATUS: IN STOCK

---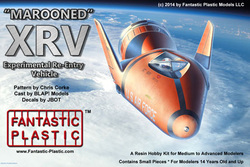 XRV "Experimental Re-Entry Vehicle"
from "Marooned" (1969)
Scale: 1/72
Pieces: 17
Price REDUCED!: $75.00

STATUS: IN STOCK

---