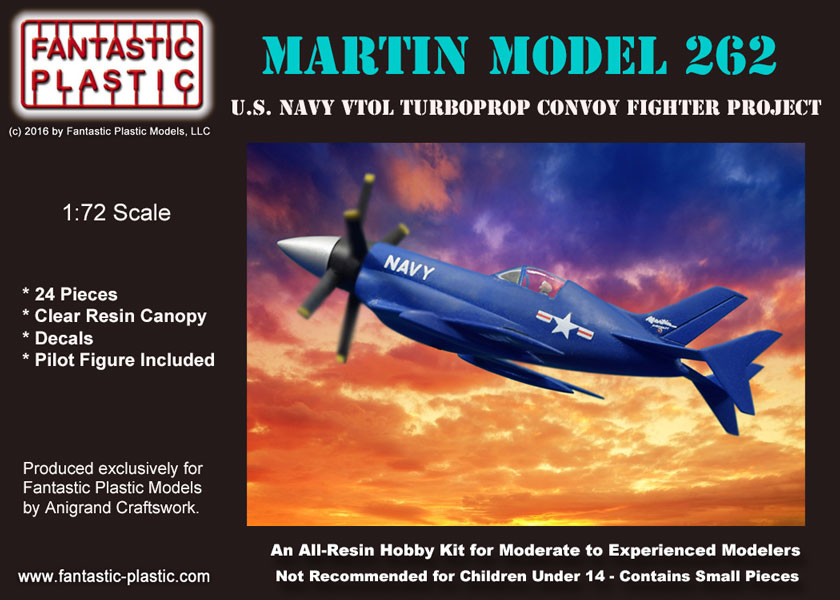 Martin Model 262 (1950)

VTOL Convoy Fighter Concept
Price: $75.00 + Shipping
STATUS: IN STOCK

About the Design


During the late 1940s, the U.S. Navy launched a program to develop a small, tail-sitting fighter that could launch vertically from its supply ships. In 1950, it launched the Convoy Fighter Competition, which ultimately yielded the Convair XFY-1 "Pogo" and the Lockheed XFV-1 "Salmon." But these two planes weren't the only designs the Navy considered.

Also in the running was Martin's Model 262. Like other designs in the competition, this was a VTOL tail-sitter, although its three tails were unique to this contest. Also unusual was its narrow swept-back wing configuration. All the other entrants featured either straight or delta-wings.

What particularly distinguished the Model 262 from its competitors was its launch and recovery protocol. Instead of lifting off a simple helipad, the 262 used underside probes and hooks to secure itself to a corrugated platform that could be raised vertically and then kept at 90 degree regardless of the parent ship's movement. For recovery, the aircraft would assume the vertical position, then carefully maneuver itself against the platform where the probe and hooks would secure it. The platform could then be lowered to the horizontal position for pilot egress and aircraft servicing.

The Model 262 never made it past the proposal stage.


About the Model


Scale: 1:72
Number of Pieces: 24

Pattern: Anigrand Craftswork
Casting: Anigrand Craftswork
Decals: Anigrand Craftswork
Pilot figure included.
Clear resin canopy.


Fantastic Plastic and Anigrand Craftswork are working jointly to produce all three rejected Convoy Fighter competition entrants.