Spacecraft & Missile Models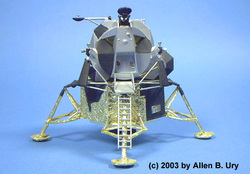 Space, the final frontier...

The phrase is more than just the introduction to a classic science-fiction program. Space travel has been the dream of humankind ever since cavemen first looked up and gazed at the stars. In the 20th Century, fantasy gave way to reality as rockets first used as weapons of terror were turned into tools of exploration, first sending satellites into orbit, and then men to the moon.

Throughout this great adventure, the plastic model industry was there to chronicle history in miniature. Some of these rockets were weapons of war. Others were tools of peace. All were testaments to mankind's never-ending quest to touch the Infinite.


---