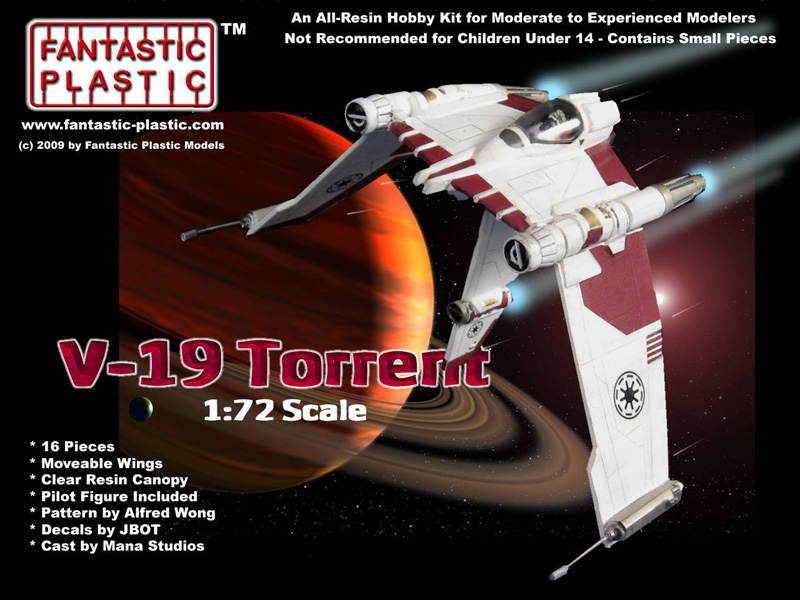 V-19 Torrent

from "Star Wars - The Clone Wars" (2008)


Production Run: 2009

About the Design


The V-19 "Torrent" was a high-speed assault fighter used by the Galactic Republic during the Clone Wars. The highly maneuverable craft was distinguished by its two folding airfoils and re-positionable tail. Armament consisted of two wing-tip blaster cannons two two concussion missiles.

The Torrent was first conceived for LucasFilm's Clone Wars "micro-series," and later become a fixture of both the 2008 "Clone Wars" feature film and subsequent long-form animated TV series.



About the Kit


Scale: 1:72
Material: Resin
Number of Pieces: 16
Moveable Wings
Pilot Figure Included
Master by Alfred Wong
Casting by Mana Studios
Decals by JBOT


Note: Production and sales of the "V-19 Torrent" kit were halted when Fantastic Plastic Models was hit with a Cease & Desist (C&D) order from LucasFilm in July 2009. Fantastic Plastic subsequently sold the patterns to this kit to Multi-Verse Models. For information on current availability, visit http://www.mvmodels.biz/.


What You Get