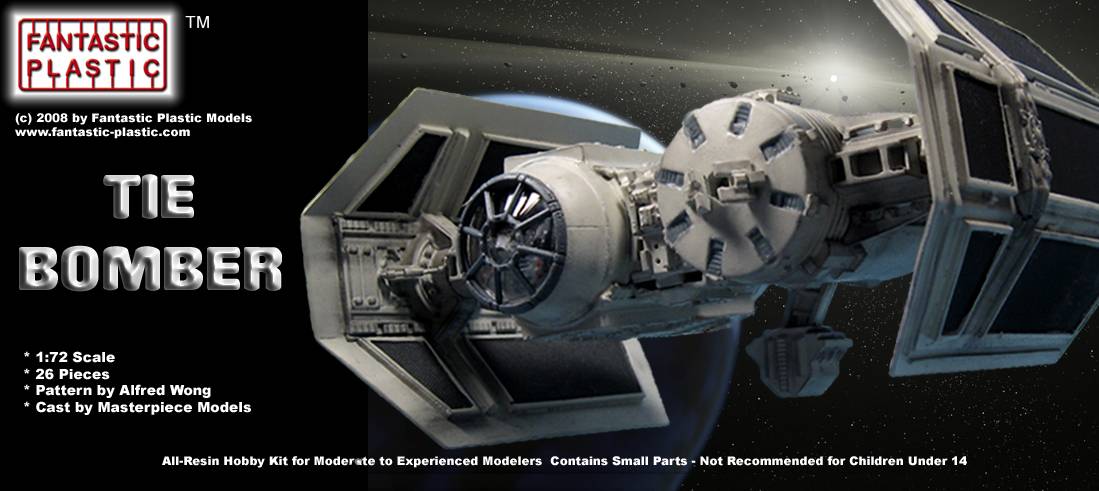 TIE Bomber

from "Star Wars - Episode V: The Empire Strike Back" (1980)


Production Run: 2008-2009

About the Design


Featured only briefly in the first "Star Wars" sequel, "The Empire Strikes Back," the TIE Bomber was a short-range tactical bomber based on the TIE Advanced spaceframe. (In fact, the designers at George Lucas' Industrial Light and Magic used the solar panels from the AMT/Ertl "Darth Vader TIE Fighter" kit to build the filming miniature.) The starboard cylinder contains the pilot while the port cylinder contains the explosive charges, which are delivered to their target via a ventral bomb chute.



About the Kit


Scale: 1:72
Material: Resin
Number of Pieces: 26
Master by Alfred Wong
Casting by Masterpiece Models


Note: Production and sales of the "TIE Bomber" kit were halted when Fantastic Plastic Models was hit with a Cease & Desist (C&D) order from LucasFilm in July 2009. Fantastic Plastic subsequently sold the patterns to this kit to Multi-Verse Models. For information on current availability, visit http://www.mvmodels.biz/.

What You Get