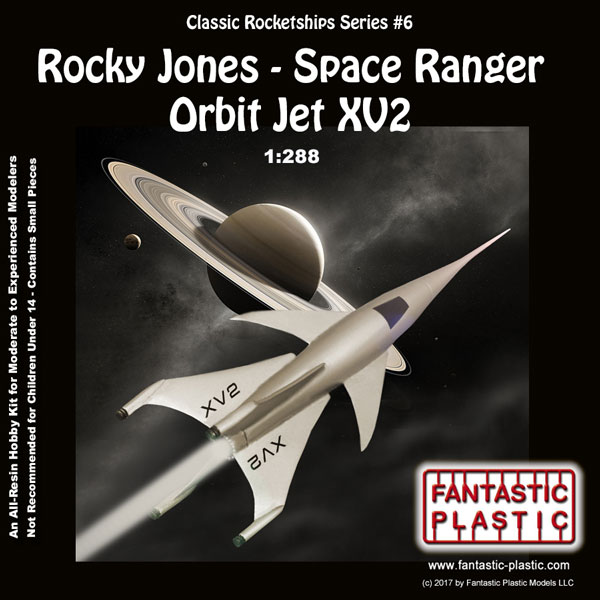 Orbit Jet XV-2 from "Rocky Jones, Space Ranger" (1953-1954)

Classic Rocketship Series #6

Price: $45.00 + Shipping
STATUS: IN STOCK

About the Design


"Rocky Jones, Space Ranger" was one of the first science fiction series produced for broadcast television in the United States. Created by Roland Reed, the series followed the adventures of Space Ranger Rocky Jones and the crew of the Orbit Jet XV-2 (and later the nearly identical Silver Moon XV-3) as they championed law and order for the United Worlds of the Solar System.

Sold in syndication, Rocky Jones ran for just two seasons, ultimately delivering 39 episodes. Because it was filmed rather than broadcast live, the show has continued to find life, first as a series of cobbled-together TV movies, in VHS tapes, and now on YouTube.

The hero ship, the Orbit Jet XV-2, was a classic V-2-inspired tail-sitter. Powered by a traditional chemical rocket engine, it was nonetheless capable of traveling to distant planets and star systems.


About the Model


Scale: 1:288

Number of Pieces: 9
Pattern: Scott Lowther
Casting: Ravestar Studios' Resin Foundry
Decals: JT Graphics
Moonbase Display stand included!

This kit is #6 in our 1:288 "Classic Rocketships" series.

This kit was designed with the help of Michael McMurtrey, who re-scaled the design based on new screen shots.