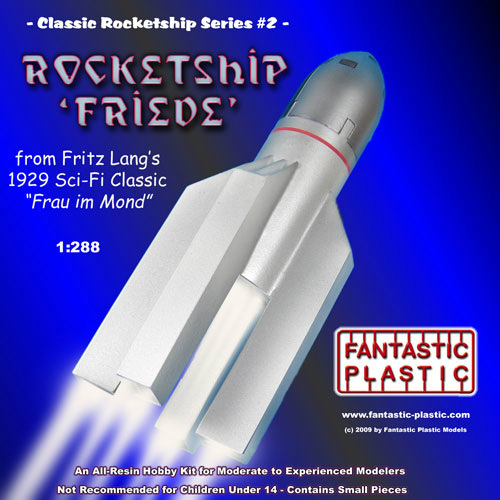 Rocketship "Friede"

from Fritz Lang's "Frau im Mund" (1929)
Price: $70.00 + Shipping
STATUS: IN STOCK

About the Design



In 1927, in the wake of his stunning success with his sci-fi opus "Metropolis," German director Fritz Lang decided his next movie would be a sprawling silent melodrama based on mankind's first trip to the moon. To make his movie as technically accurate as possible, Lang enlisted the aid of already-famous spaceflight cheerleader Wiley Ley who, in turn, corralled Romanian-born rocket pioneer Hermann Oberth into the project. The centerpiece of Lang's new feature, "Frau im Mond" ("The Woman in the Moon,") was the spaceship "Friede" (named after the movie's titular character), based on the Modell E rocket from Oberth's treatise "Die Rakete." An extra stage was added to the E, making the "Friede" longer and more cylindrical than its predecessor, but keeping in place the rectangular "legs" that provided support as well as additional aerodynamic stability for the spacecraft.

Although "Frau im Mond" was not a commercial success -- it had the misfortune of being a silent film released just when talkies were taking off -- it could be argued that it lead directly to the actual moon landing 40 years later. As a pre-release publicity stunt, Lang's studio, Ufa, agreed to finance the development of an actual liquid-fuel based scale model of the "Friede" that would be flown just prior to the film's premiere. (Note: In 1929, liquid-fueled rockets had yet to be flown in Europe.) Although the project failed, leading Oberth to suffer a literal nervous breakdown, the project was subsequently taken up by Germany's nascent VfR (German Rocket Society) whose membership included a then-18-year-old Werner von Braun. The rest, as they say, is history.

Additional note: After Hitler came to power, "Frau im Mond" was considered so technically authentic that the Reich ordered all prints destroyed for fear it could compromise its secret ballistic missile program. Those prints that currently survive tend to be highly edited versions of Lang's 2-1/2-hour-long original.



About the Model


Scale: 1:288
Material: Resin
Number of Pieces: 11
Pattern by Dave Guertin
Casting by Dave Guertin
Created in cooperation with Jon C. Rogers and Rogers Rocketships.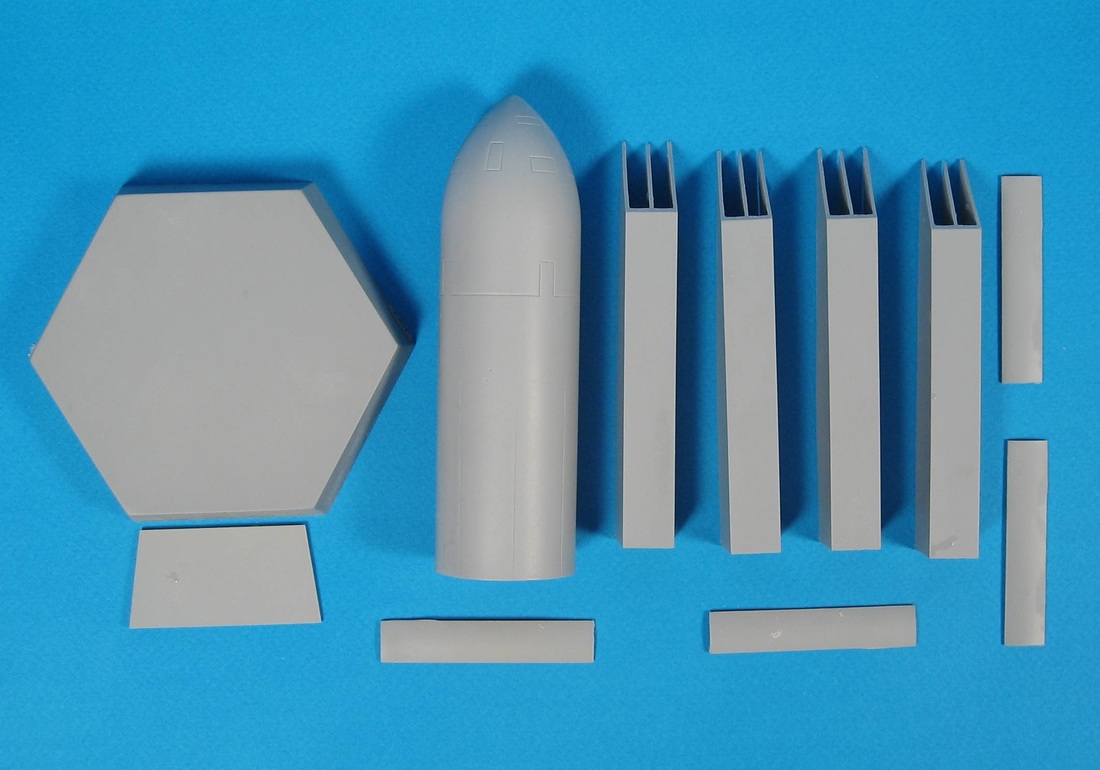 What You Get