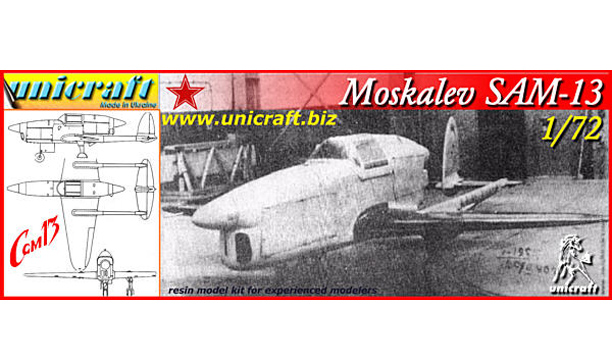 Moskalev SAM-13
Soviet Experimental Twin-Boom Pusher Fighter

Price: $30.00 + Shipping
STATUS: IN STOCK

About the Design


The Moskalev SAM-13 was an unusual twin-engine, twin-boom, push-pull piston-engine fighter developed by the Soviets in the early years of World War II. Similar to the Fokker D.XXIII, the SAM-13 was distinguished by its small wing surface and the single tail between its two booms. The plane featured retractable tricycle landing gear and slim, highly aerodynamic design.

Just one copy of the SAM-13 was built. It was test-flown twice in 1940 as part of the plane's factory trials, but any further development was halted by the German invasion later that year.


About the Model


Scale: 1:72
Material: Resin
Number of Pieces: 23
Decals not included.