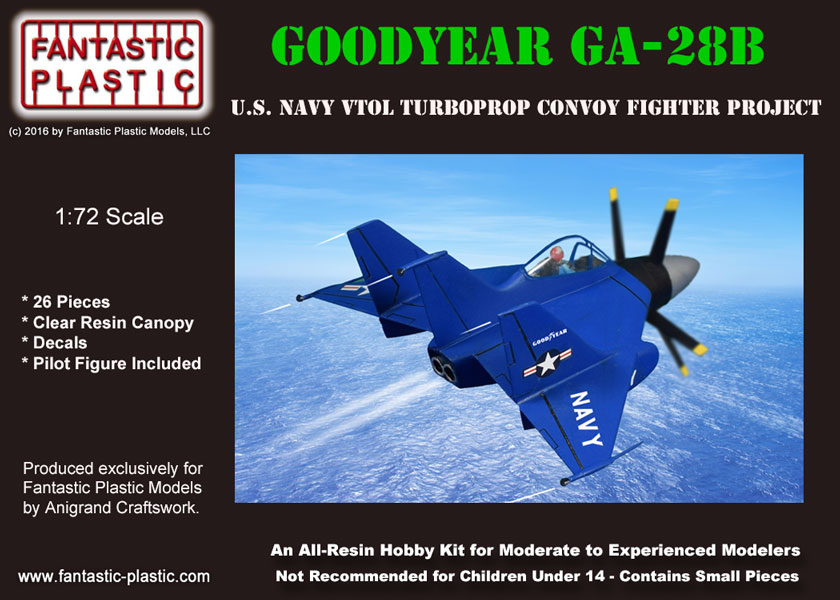 Goodyear GA-28B (1950)

VTOL Convoy Fighter Concept
Price: $75.00 + Shipping
STATUS: IN STOCK

About the Design


During the late 1940s, the U.S. Navy launched a program to develop a small, tail-sitting fighter that could launch vertically from its supply ships. In 1950, it launched the Convoy Fighter Competition, which ultimately yielded the Convair XFY-1 "Pogo" and the Lockheed XFV-1 "Salmon." But these two planes weren't the only designs the Navy considered.

Also in the running was Goodyear's GA-28. The "A" version was to be a 3/4 scale proof of concept vehicle, while the "B" was to be a full-sized fighter armed with four 20mm cannon.

Goodyear's design was distinguished by its unusual landing gear that would allow the plane to launch either vertically or horizontally. It ultimately lost out to the Convair and Lockheed designs.


About the Model


Scale: 1:72
Number of Pieces: 25

Pattern: Anigrand Craftswork
Casting: Anigrand Craftswork
Decals: Anigrand Craftswork
Pilot figure included.
Clear resin canopy.