X-15 "Blue Scout" (1962)
SCALE: 1/48

INITIAL RELEASE: 2002

MEDIUM: Polystyrene/Resin

RARITY: (2)
ABOUT THE DESIGN

ABOUT THE KIT

The North American X-15 remains one of the most successful -- and famous -- test plane in America's "X" series, setting scores of speed and altitude records that stand to this day. In March 1962, NASA's X-15 Committee proposed using the hypersonic rocketplane as a high-altitude platform from which to launch small satellites into orbit. The proposed scenario would have the X-15 taken airborne by a modified B-52 bomber (the usual procedure for launching the X-15). Attached to the X-15's undercarriage would be a Scout booster fitted to an extendable launching rail. Once released from its B-52 mothership, the X-15 would fly to the atmosphere's upper edge and from there launch the Scout into orbit. Once orbital velocity had been achieved, the Scout would release the satellite contained in its payload section.

The modified X-15 would, in effect, become part of a low-cost multi-stage launch system. However, the proposal was ultimately rejected due to concerns over safety, economy and overall viability.

This X-15/Blue Scout kit was released by New Ware of the Czech Republic in the early 21st Century and is a conversion kit for Special Hobby's 1/48-scale X-15 multi-media model.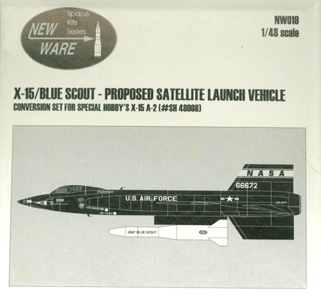 Original Box Art
Home X-Planes Concept Aircraft Spacecraft & Missiles Concept Spacecraft Science Fiction Grab Bag
---