"The Wheel" Space Station from
"The Conquest of Space" (1955)
Coming Soon!
Retail Price: TBD
For More Information Contact: FantasticPlast@aol.com
ABOUT THE DESIGN:
ABOUT THE MODEL:
Famed fantasy producer George Pal followed up his seminal sci-fi smashes "Destination Moon" (1950), "When Worlds Collide" (1951) and "The War of the Worlds" (1953) with his most ambitious motion picture yet: "The Conquest of Space." Featuring the designs of famous German-born rocket scientist Dr. Werner von Braun, the film dramatized man's first trip to Mars -- including the psychological toll the voyage might take on its crew.

The film featured many iconic 1950s-era spacecraft designs. "The Wheel" was a classic space station designed to rotate to provide artificial gravity. It differed only slightly from von Braun's first published space station designs in that it had three spokes instead of the original two and the upper and lower "observatory/airlock" sections were somewhat simplified. Like the original design, "The Wheel" was solar-powered, energy coming via a ring of parabolic mirrors on the station's upper surface.

The station was serviced by a classic "cigar-with-wings"-type shuttle rocket designed to be blasted into space by a massive booster and then return to earth as a powered glider.

Scale: 1:288
Material: Resin
Number of Pieces: 20
Shuttle Rocket Included!
Display Stand Included!
Master by David Merriman
Casting TBD
Diameter: 10.5"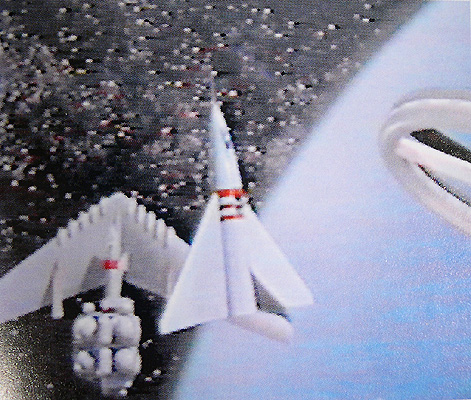 In-Scale Rocket Shuttle Included!
Home X-Planes Concept Aircraft Real Space Concept Spacecraft Pop Culture Grab Bag
---