"Stauch" UFO (1965)
SCALE: N/A

INITIAL RELEASE: 1995

MEDIUM: Resin

RARITY: (3)
ABOUT THE DESIGN

ABOUT THE KIT

It was the evening of October 21, 1965. Mr. and Mrs. Arthur Strauch, their 16-year-old son Gary, and friends Mr. and Mrs. Donald Grew. all from Gibbon, Minn., were returning from a hunting trip when they reportedly saw -- and photographed -- this classic flying disc. The number of observers, the photograph and the considerable detail provided by the five witnesses made this one of the more credible night-time sightings in UFO lor

In the late 1990s, Lunar Models released a series of simple one-piece resin models based on "classic" UF0 descriptions. This "Stauch" saucer is No. 5 in the series.

This model is an original issue.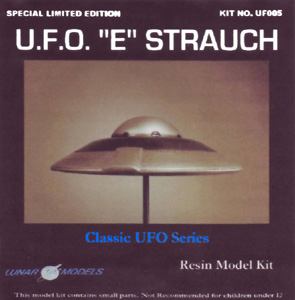 Original Box Art
Home X-Planes Concept Aircraft Spacecraft & Missiles Concept Spacecraft Science Fiction Grab Bag
---