SCALE: 1/48

INITIAL RELEASE: 1996

MEDIUM: Polystyrene

RARITY: (2)
ABOUT THE DESIGN

ABOUT THE KIT

In the mid-1990s, former U.S. government physicist Bob Lazar made headlines when he revealed that, in 1988 and 1989, he had been employed at the Top Secret S-4 research facility adjacent to the fabled Area 51 Groom Lake facility helping to "reverse engineer" alien spacecraft. One of the ships he worked on he code-named the "sport model"; it was a classic "flying disc" purportedly powered by an anti-matter engine that allowed it to bend gravity. The craft had no landing gear, but simply rested on its flat bottom when not airborne. He claimed that this was just one of a half-dozen alien "flying saucers" with which the Air Force was continuing to experiment.
A decade earlier, Testors had made it big by supposedly producing the first model of the American Stealth Fighter. Of course, its 1986 design was later revealed to be totally inaccurate. Undaunted, Testors next "blew the lid" off the long-rumored UFO conspiracy with this large, 13-inch "real" alien spacecraft.

The model itself was made from clear plastic that allowed one to view the interior, which consisted of...well...virtually nothing. It made more sense to just paint the damned thing a nice shiny metallic. Subsequent releases also contained a model of a classic alien "grey."

This model was built from an original 1996 issue.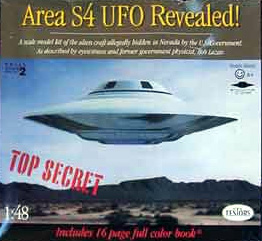 Original Box Art
Home X-Planes Concept Aircraft Spacecraft & Missiles Concept Spacecraft Science Fiction Grab Bag
---