F-19 Stealth Fighter (1987)
SCALE: 1/48

INITIAL RELEASE: 1987

MEDIUM: Polystyrene

RARITY: (3)
ABOUT THE DESIGN

ABOUT THE KIT

Not to be outdone by its rivals at Testors, Monogram responded to the unprecedented success of that company's F-19 with its own version of the elusive Stealth fighter. (In fact, Monogram bought the rights to the use the name "F-19 Stealth" from Testors!)

Monogram's version was even more low-profile and bat-like than Testors' model -- yet turned out to be just as inaccurate once the real Stealth was revealed to the public. (It turned out to be based on an earlier "artist's conception" done years earlier by a major aircraft manufacturer.)

Monogram released this stealth design in both a traditional 1/48 scale glue kit and a 1/72 "Snap" version (sans landing gear). The 1/72 kit was also released in a "glow-in-the-dark" version.

This model was built from an original issue.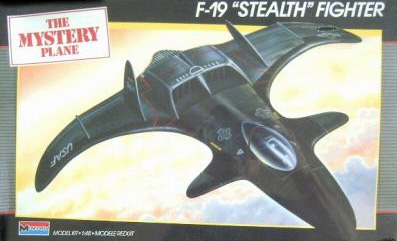 Original Box Art
Home X-Planes Concept Aircraft Spacecraft & Missiles Concept Spacecraft Science Fiction Grab Bag
---