Air Car from "The Jetsons" (ABC-TV 1962-63)
SCALE: Unknown

INITIAL RELEASE: 2002

MEDIUM: Polystyrene

RARITY: (1)
ABOUT THE DESIGN

ABOUT THE KIT

Set in a romanticized 21st Century, "The Jetsons" cartoon series featured all manner of futuristic vehicles and gadgets, including the requisite family "flying car." Little more than a classic flying saucer with an oversized bubble-top cockpit, the air car was light enough to collapse into an attaché case for easy transport!

An original release by Polar Lights, the Jetsons' Air Car was a simple "Snap" kit with its five occupants pre-painted. Its huge clear plastic dome made it an absolute bear to photograph!

This model was built from an original issue.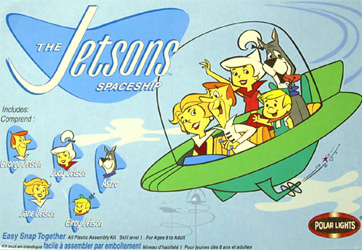 Original Box Art
Home X-Planes Concept Aircraft Spacecraft & Missiles Concept Spacecraft Science Fiction Grab Bag
---