"Galileo" Atomic-Powered Moon Rocket
SOLD OUT!
For More Information, Email FantasticPlast@aol.com
ABOUT THE DESIGN:
ABOUT THE MODEL:

The years following WWII saw an explosion in popular science fiction. From movies like "Destination Moon" and "Rocketship XM" to the early novels of Robert Heinlein, Arthur C. Clarke and Ray Bradbury, imaginations worldwide were propelled into the cosmos upon wings fired by both hard science and pure imagination.

As early as 1947, science-fiction authors were imagining flights into space in rockets powered by the then-nascent power of atomic energy. The "Galileo" was one such craft, a former single-stage sub-orbital cargo shuttle saved from the scrapyard by private interests to be fitted with an atomic engine for mankind's first manned flight to the Moon!

This winged ogive design is typical of pop-culture spacecraft designs of the period. Although the German V-2s of WWII launched vertically, the "Galileo's" horizontal profile echoes the airplane-like spacecraft designs popular a decade earlier.

Scale: 1:144
Material: Resin (Solid Cast)
Number of Pieces: 9 (Including landing skids)
Display Stand: Optional
Decals Included
Master by Scott Lowther
Casting by Controlled Energy Designs
Model can be build with either a chemical rocket or atomic engine exhaust
"This kit is a true work of art!" - Mike Atkins, Vallejo, Calif.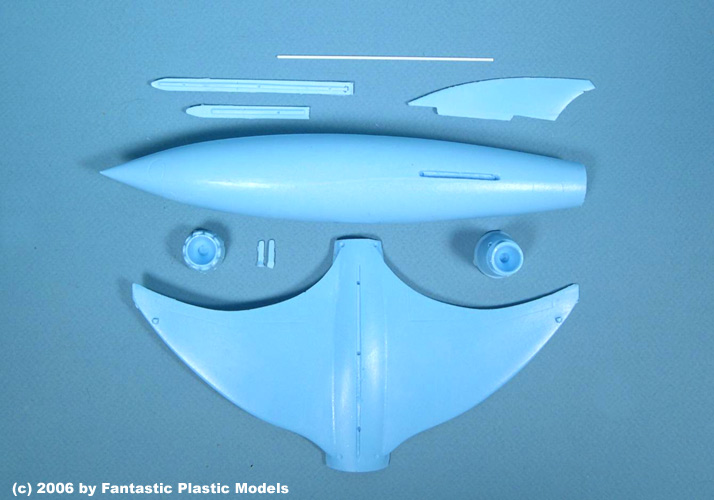 What You Get
Home X-Planes Concept Aircraft Real Space Concept Spacecraft Pop Culture Grab Bag
Copyright 2005-2010 by Fantastic Plastic Models, LLC
---