S.S."Botany Bay" from
"Star Trek: Space Seed" (NBC-TV 1966-69)
SCALE: 1/350

INITIAL RELEASE: 2009

MEDIUM: RESIN

LENGTH: 12"

RARITY: (2)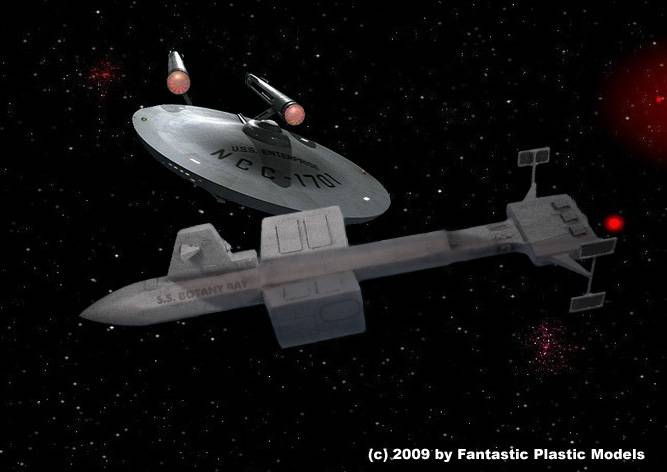 U.S.S. Enterprise Discovers the Derelict "Botany Bay."
ABOUT THE DESIGN

ABOUT THE KIT

The DY-100 sleeper ship "Botany Bay" appeared on "Star Trek's" classic first season episode "Space Seed," the episode that was the basis for the 1982 motion picture "Star Trek II: The Wrath of Khan." The ship was ostensibly a late 20th Century deep space vessel, one used by the eugenically enhanced dictator Khan Noonian Singh and his followers to flee earth at the end of WWIII for parts unknown. Since the craft was powered by sub-light ion engines, crewmembers were required to spend their multi-year journeys in suspended animation.

The craft, designed by Star Trek's art director Matt Jefferies, was one of the few custom miniatures created for the budget-strapped Original Series. The same model was subsequently used as the ill-fated "automated ore carrier" in the second season episode, "The Ultimate Computer."

Mastered and cast by Mike Salzo, this 1/350-scale "Botany Bay" was sold by special arrangement with Fantastic Plastic Models beginning in July 2009. The kit had optional upper and lower cargo adapters that allowed by modeler to build the ship as the traditional "Botany Bay" or as a fully-loaded DY-100 cargo vessel.

For information on kit availability, CLICK HERE.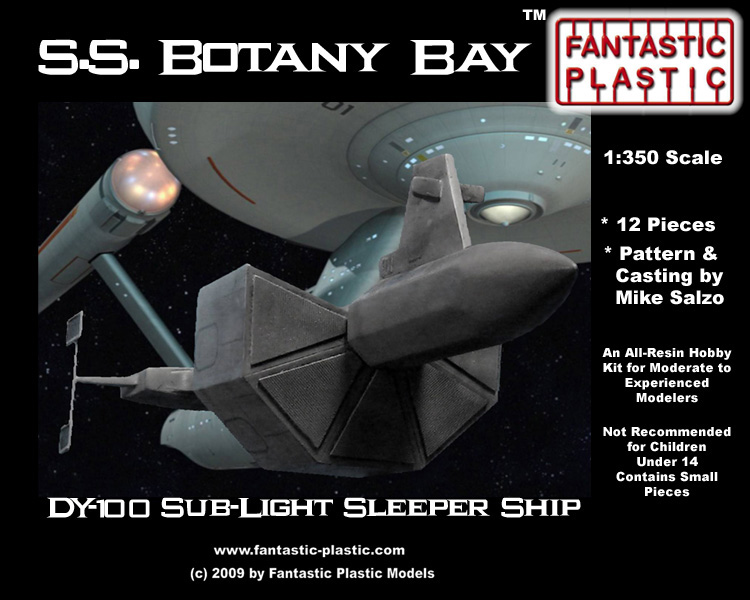 Original Box Art
Home X-Planes Concept Aircraft Spacecraft & Missiles Concept Spacecraft Science Fiction Grab Bag
---