Batskiboat from "Batman Returns" (1992)
SCALE: 1/25

INITIAL RELEASE: 1992

MEDIUM: Polystyrene

RARITY: (3)
ABOUT THE DESIGN

ABOUT THE KIT

The Batskiboat made a brief appearance in Tim Burton's 1992 "Batman" sequel, "Batman Returns," as the Caped Crusader used this jet-powered hydrofoil to pursue The Penguin through the sewers of Gotham City. Like all the vehicles in Burton's two "Batman" movies, the Batskiboat enjoyed about five minutes of screen time before it was summarily wrecked.

AMT/Ertl's Batskiboa

t was a large but extremely simple "Snap" kit that built up in just a few minutes. With an all-black exterior color scheme, the model was about as simple as it gets to complete.

This model was built from an original issue.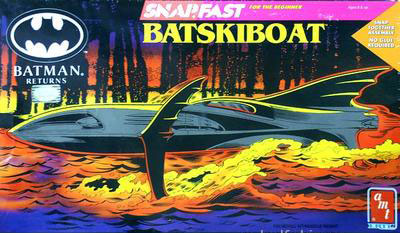 Original Box Art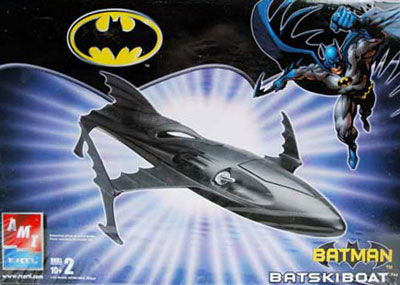 Re-Release Box Art
Home X-Planes Concept Aircraft Spacecraft & Missiles Concept Spacecraft Science Fiction Grab Bag
---