Copperhead Transport from
"Final Fantasy: The Spirits Within" (2001)
SCALE: 1/100

INITIAL RELEASE: 2002

MEDIUM: Vinyl

RARITY: (3)
ABOUT THE DESIGN

ABOUT THE KIT

Although it was a major box office disappointment, 2001's "Final Fantasy: The Spirits Within" succeeded in ramping up photo-realistic CGI to a whole new level. Among the film's visual treats was the "Copperhead," a tilt-engine jet-powered VTOL transport ostensibly upgraded as an armored military assault craft. The aircraft has a distinctively insect-like shape with subtle reptilian influences that complemented the film's "lifeforce" themes.

No actual model kits were produced in conjunction with 2001's "Final Fantasy." But Bandai of Japan did issue this vinyl "playset" toy in 1:100 scale (or thereabouts), and it was more than accurate enough to serve as the basis for a fine display model.

These "Before" and "After" photos illustrate how the model looked out of the box, and then how it appears following its highly detailed custom paint job. The base coat is Testors Titanium Metalizer. The model was then hand-detailed using a variety of acrylic and enamel paints, followed by an acrylic wash to bring out the panel lines, followed by weathering using charcoal pastels.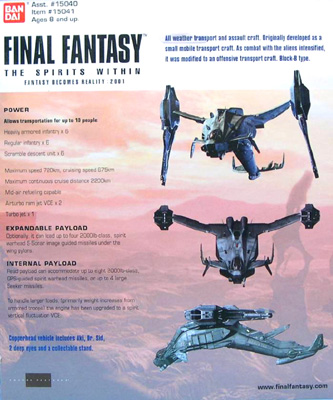 Original Box Art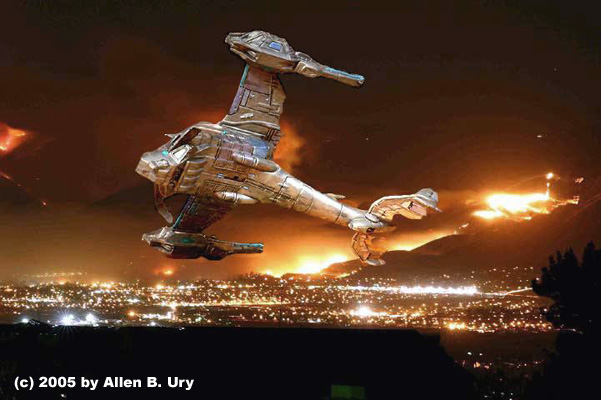 Copperhead In Flight
Home X-Planes Concept Aircraft Spacecraft & Missiles Concept Spacecraft Science Fiction Grab Bag
---