Earth Defense Directorate Starfighter from
"Buck Rogers in the 25th Century"
(NBC-TV 1979-1981)
SCALE: 1/48

INITIAL RELEASE: 1979

MEDIUM: Polystyrene

Rarity : (4)
ABOUT THE DESIGN

ABOUT THE KIT

Although Glen Larson's "Buck Rogers" TV series was even campier than the "Battlestar Galactica" series that begat it, the design of the Earth Defense Directorate Starfighter was far and away more creative than anything his design team developed for BSG. Its abbreviated "A"-frame wing structure, massive needle-like engines and underside tail fins gave the Starfighter a unique profile that was decidedly lean and mean. (Some claim that the design actually showed up in pre-production work for both "Star Wars" and "Battlestar Galactica," although I have not seen any direct evidence of this...yet.)

One of only two "Buck Rogers" kits produced by Monogram in the late 1970's (the other was the Draconian Marauder), the Starfighter was actually released before the series' September 1979 premiere. It was briefly re-released briefly by Tsukuda under its short-lived "S.F. Old Time" label in the mid-1980s. The original "Starfighter" is today a highly coveted kit while the Marauder continues to languish wherever it pops up for sale..

This model was built from an original issue.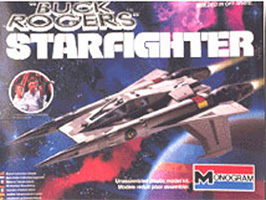 Original Box Art
Home X-Planes Concept Aircraft Spacecraft & Missiles Concept Spacecraft Science Fiction Grab Bag
---